2017 Yamaha FZ-10 Custom Project Build adds 17 hp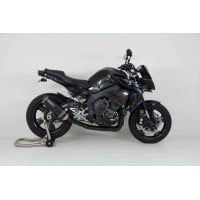 What do you do with a brand new bike that already looks beautiful completely stock? You add custom parts to make this beauty stand out even more.

We added a set of Carbon Fiber Rotobox wheels from Brock's Performance, which just won the world's largest innovation award for technology, sports and lifestyle - "The Plus X Award". Named the "Best Product of the Year 2016/2017" (and we agree - awesome wheels). The front wheel is $1495.00 USD and weighs a mere 5.4 lbs. The rear wheel is $1995.00 USD and weighs only 8.55 lbs.
We flashed and tuned the ECU and did an airbox mod. From there, we added a super lightweight 3/4 Hindle Exhaust full-black ceramic coated system ($599.95 CAD) with full Evolution carbon fiber muffler ($449.95 CAD).
Add in some Braking Wave front and rear rotors and a Vortex rear sprocket. We also ceramic coated the stock front section to match and completely tuned this bike on our in-house dyno. All this made for one powerful custom Yamaha FZ-10.
With all of these additions, the FZ-10 gained almost 17 horsepower at the rear wheel over stock. On top of this, there was an increase of 4 lbs. of torque. Not bad, you say? We say INCREDIBLE.