Canadian Race Season Has Officially Started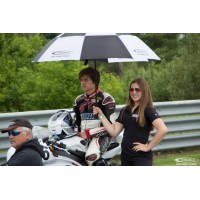 With the RACE Superseries happening this past weekend at Shannonville and the opening round of the CSBK National coming up at Shannonville, it is officially racing season in Canada. Don't forget to submit your racer application to be a part of our Racer Program. Only racers who have purchased product through our Racer Program as sponsorship are eligible for contingency.
A few reminders:
There must be a minimum starting grid of 12 motorcycles and a minimum of 8 motorcycles must complete the race.
Contingency payments are for top 3 finishes in SOAR/RACE and top 5 finishes in CSBK.
Contingency is only available in Amateur and Pro, 600 (Sportbike) and 1000 (Superbike) classes.
Products purchased through the Racer Program are eligible for contingency for a period of 2 years. After the 2 year period, a purchase of spare parts or a product update is required in order to remain eligible ($200 in total to renew the contingency for another year).
Hindle logo must be clearly displayed on motorcycle.
Muffler decal must be clearly displayed on muffler.
The Racer Program Application can be found here.
The Contingency Payout Form can be found here.
We hope that everyone has a safe and fun 2017 Race Season!