In-house tuning customer gains 24 HP on a 2013 Suzuki GSX-R1000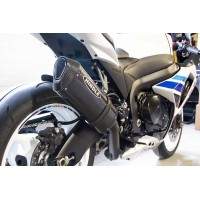 This is one happy Hindle customer leaving our facilities with an extra 24 hp! This 2013 Suzuki GSX-R1000 was brought in for a full system purchase and install, plus dyno tuning. We installed a full high race system in all black with a 12" Evo Carbon muffler and carbon end cap. We flashed the ECU with Flashtune from FTecu Inc and tuned with a Dynojet Research Inc.Power Commander V. Contact us today about our in-house dyno tuning with our lead technician, Scott Cartier. See below for photos and dyno graphs.
To purchase this same Hindle Exhaust full system, click here.