Now available - Hindle Exhaust slip-on for the Ducati Diavel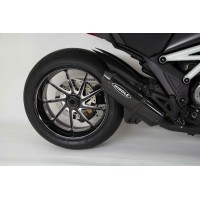 Brand-new! The Ducati Diavel slip-on is here. The Hindle Exhaust slip-on adapter (mid-pipe) comes in a beautiful brushed stainless finish. Choose your specific muffler to match your bike - available in Stainless, Black, Titanium or Carbon, and in Oval or Evolution.
Photo shown is of a custom application where the stock front exhaust system has been ceramic coated to match the mid-pipe and muffler. The Hindle Exhaust slip-on mid-pipe also retains the stock valve (the stock valve has been removed in this photo). Contact us by e-mail at info@hindle.com or by phone at 905-985-6111 if you would like more information.
For more info and to purchase the Ducati Diavel Hindle Exhaust slip-on adapter and muffler, check it out here: https://www.hindle.com/road-race/Ducati/ducati-diavel/ducati-diavel-slipon