Szoke's Winning Streak Continues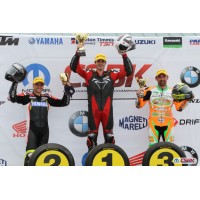 Szoke's Winning Streak Continues
- FOR IMMEDIATE RELEASE -
Port Perry, Ontario (July 26, 2018) - The fourth round of the 2018 Canadian Superbike Series (CSBK) took place this past weekend (July 19-22) at Atlantic Motorsport Park in Shubenacadie, Nova Scotia. This particular round was a double-header, as the Superbike and Sportbike pros raced both Saturday and Sunday.
Jordan Szoke, on the Mopar Express/Hindle/BMW S1000RR, won both Mopar Pro Superbike races, but not without a tough battle. In Race 1, Ben Young, on the Scot-Build/Hindle/BMW S1000RR, had a great start and tried to stop Szoke from getting by, though the result was Szoke and Young running wide, letting Samuel Trepanier, on the Blysk/Hindle/BMW S1000RR, take the 2nd spot, with Young close behind.
The first few laps of the race were exciting and super close, until Szoke started to pull a lead and eventually crossing the finish line in 1st, leaving Young and Trepanier to their own battle for 2nd and 3rd. With only two laps left, Young made his move going into the carousel to take 2nd place, the position in which he would ultimately finish in. Trepanier came in a close third, followed by Trevor Daley, on the One Speed/Hindle/Kawasaki ZX-10R in 4th and Michael Leon, on the Royal Distributing/Hindle/BMW S1000RR in 5th.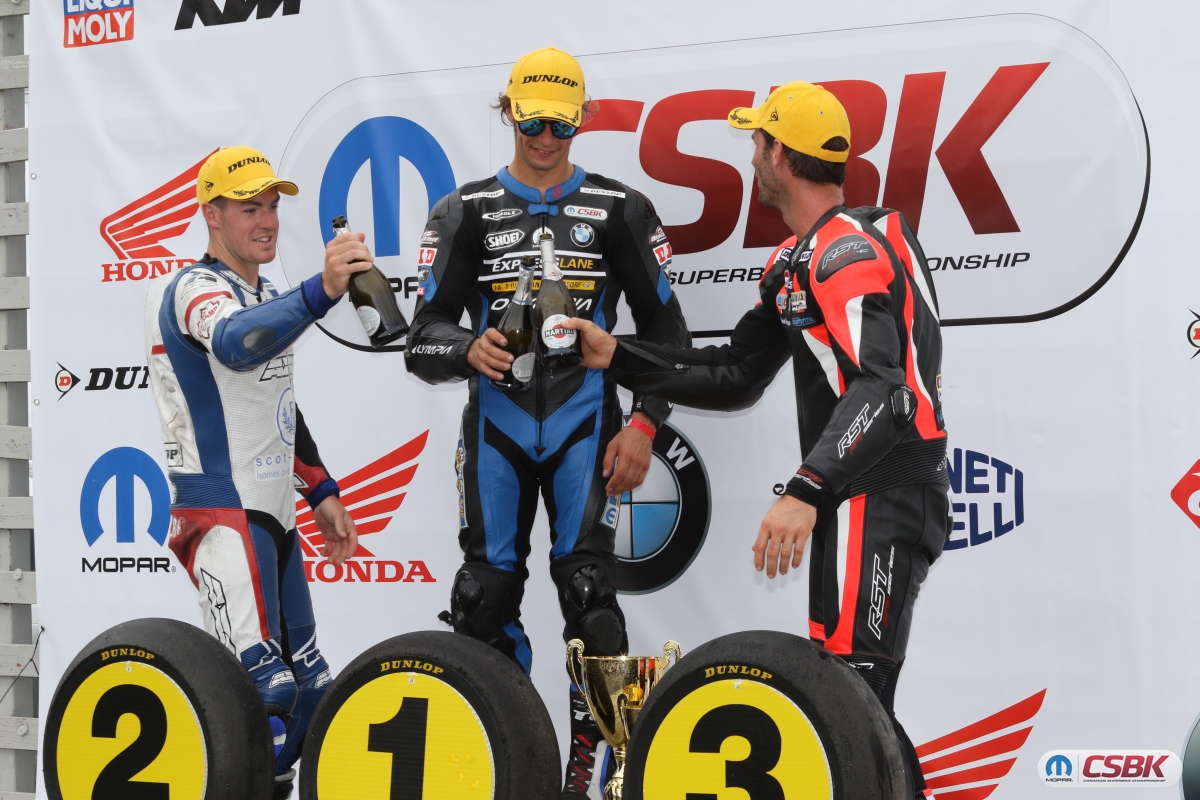 Mopar Pro Superbike Race 1 Podium: Szoke in 1st, Young in 2nd & Trepanier in 3rd
In the Mopar Pro Superbike Race 2, Szoke had a great start and grabbed the holeshot. By lap six, Szoke had lost his lead when Trepanier managed to make a pass. Szoke regained the lead by lap nine to bring it home for the win. Trepanier came close in 2nd followed by Young in 3rd. Leon finished in 4th position, followed by Daley in 5th.
"Sam pulled off a great pass and I thought maybe he was going to take off, but he made a small mistake there and when you get a chance like that you have to take it," said Szoke. "These guys pushed me 100% to my limit, I didn't slow down at all. They seem to get faster every race, and today it was just awesome."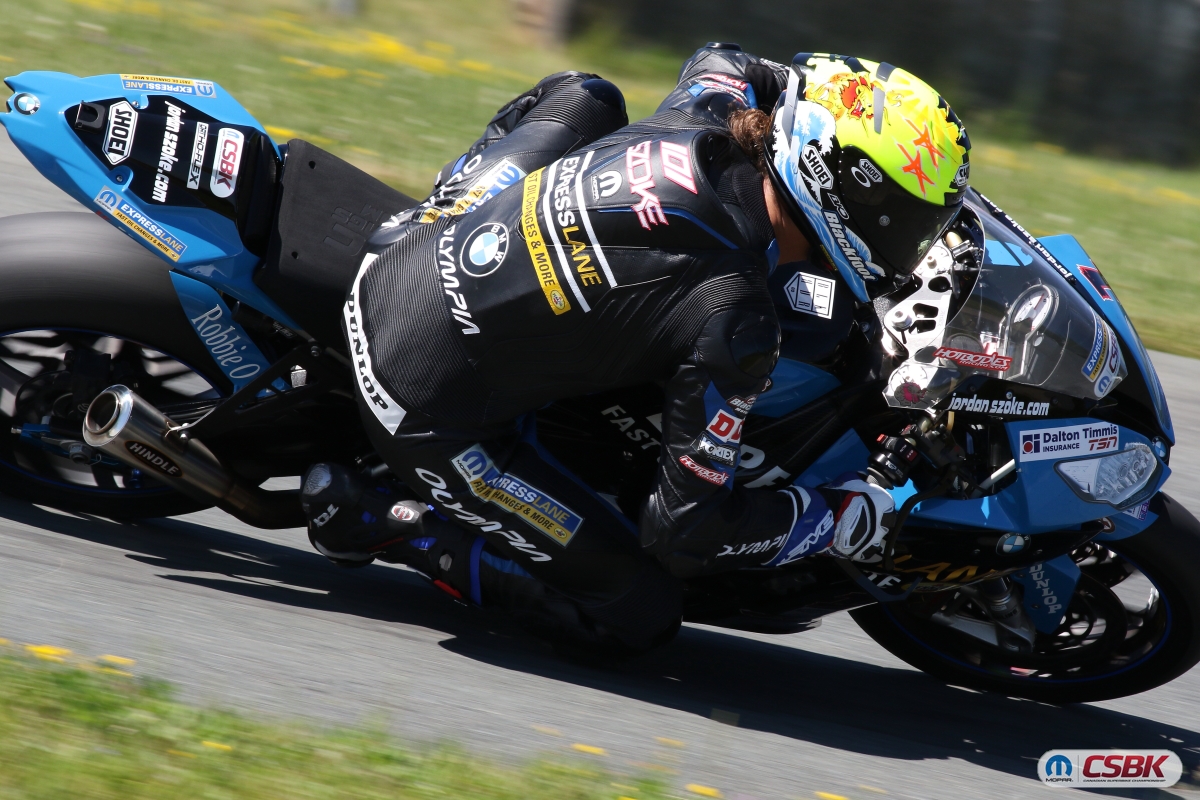 Szoke on the Mopar Express/Hindle/BMW S1000RR
"It would have been nice to at least get second for the championship, but it was a great weekend overall and we're getting one step closer every time out," said an optimistic Young. "We worked really hard as always, but it was really tiring in the heat. Hopefully things will be a little better at [CTMP]."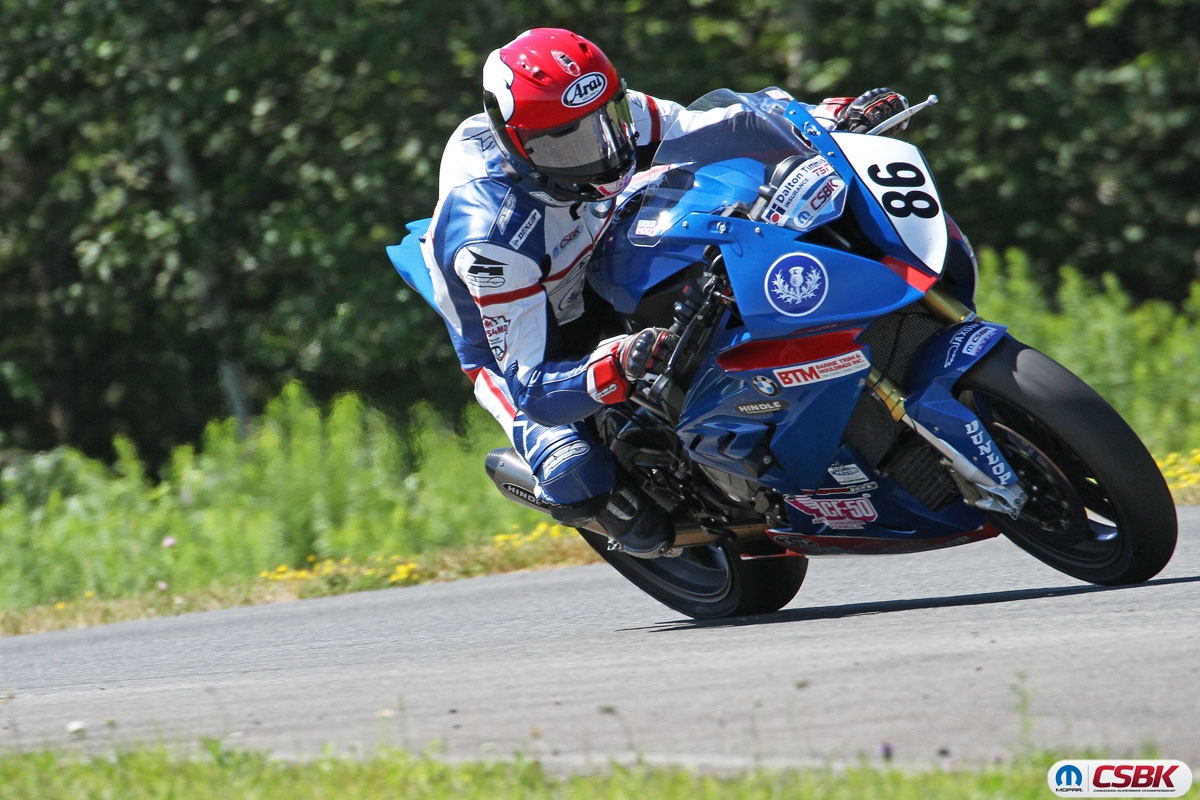 Young on the Scot-Build/Hindle/BMW S1000RR
"When Ben [Young] passed me yesterday I left the door wide open for him, so today I just went for it, but I lost my focus for a split-second. I thought Jordan would pass me, and sure enough he did!" Trepanier joked. "I think I gave him a good run, but he earned the victory, so I'm happy with second-place. It was well-deserved."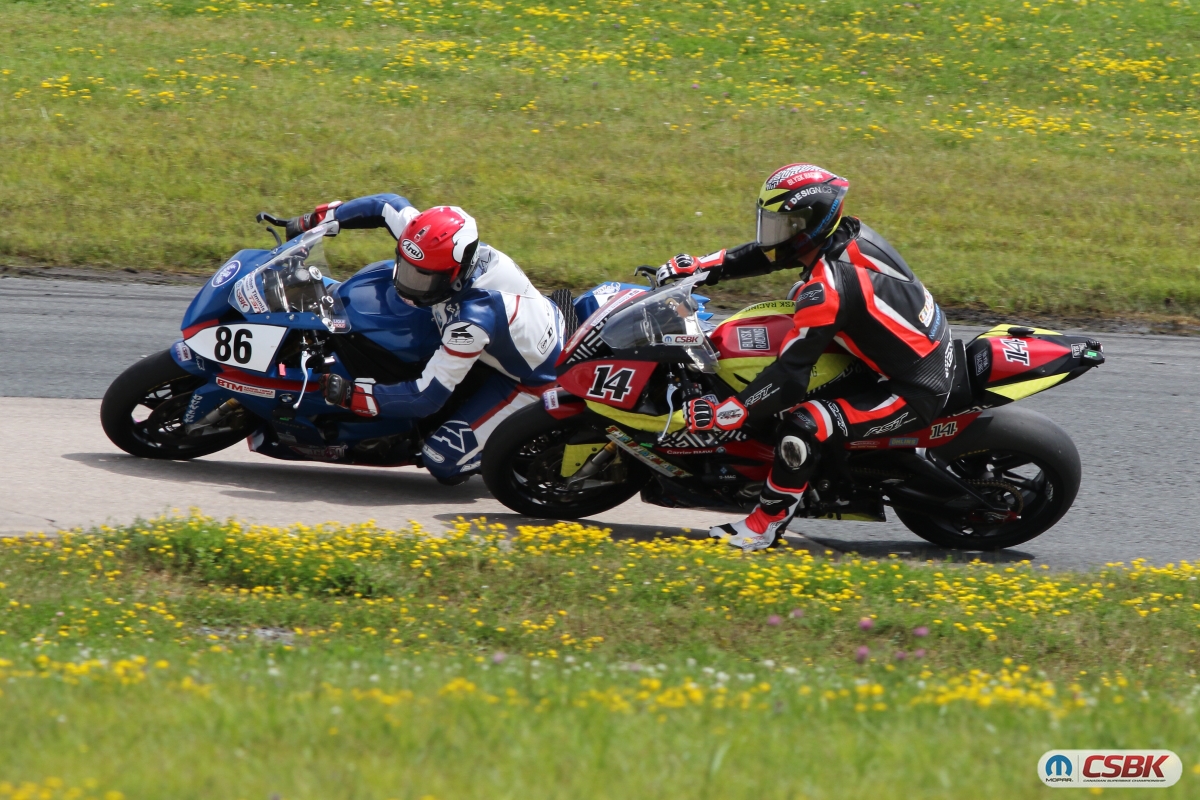 Young and Trepanier battled it out for 2nd and 3rd in the Mopar Pro Superbike Class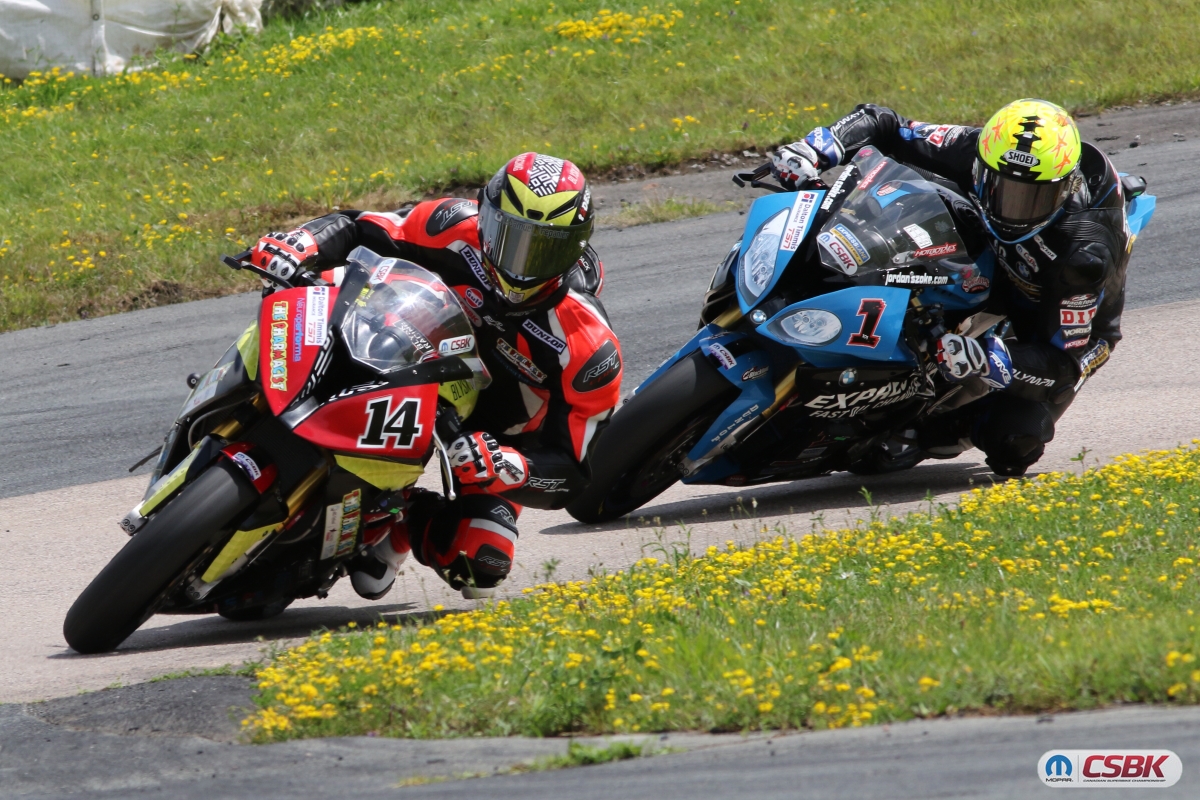 Trepanier takes the lead in lap 6 of the Mopar Pro Superbike Race 2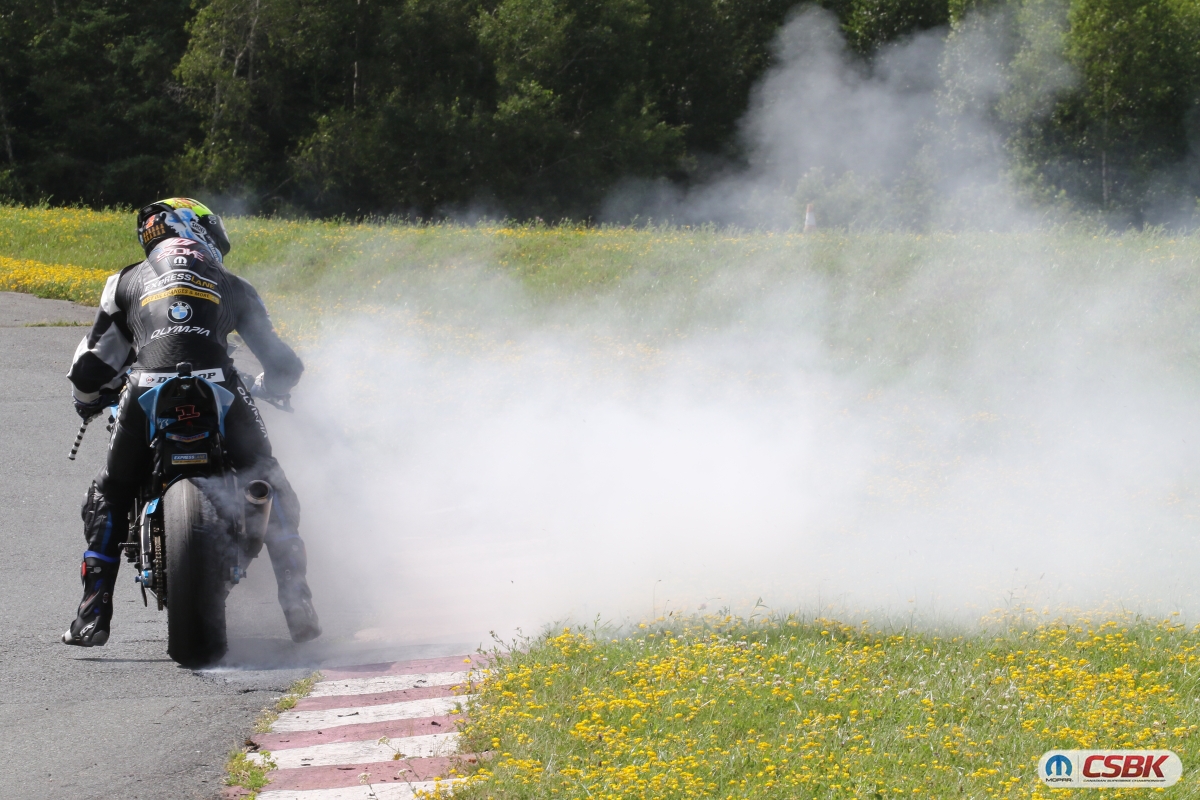 Szoke wins both Mopar Pro Superbike Races and puts on a show for the enthusiastic fans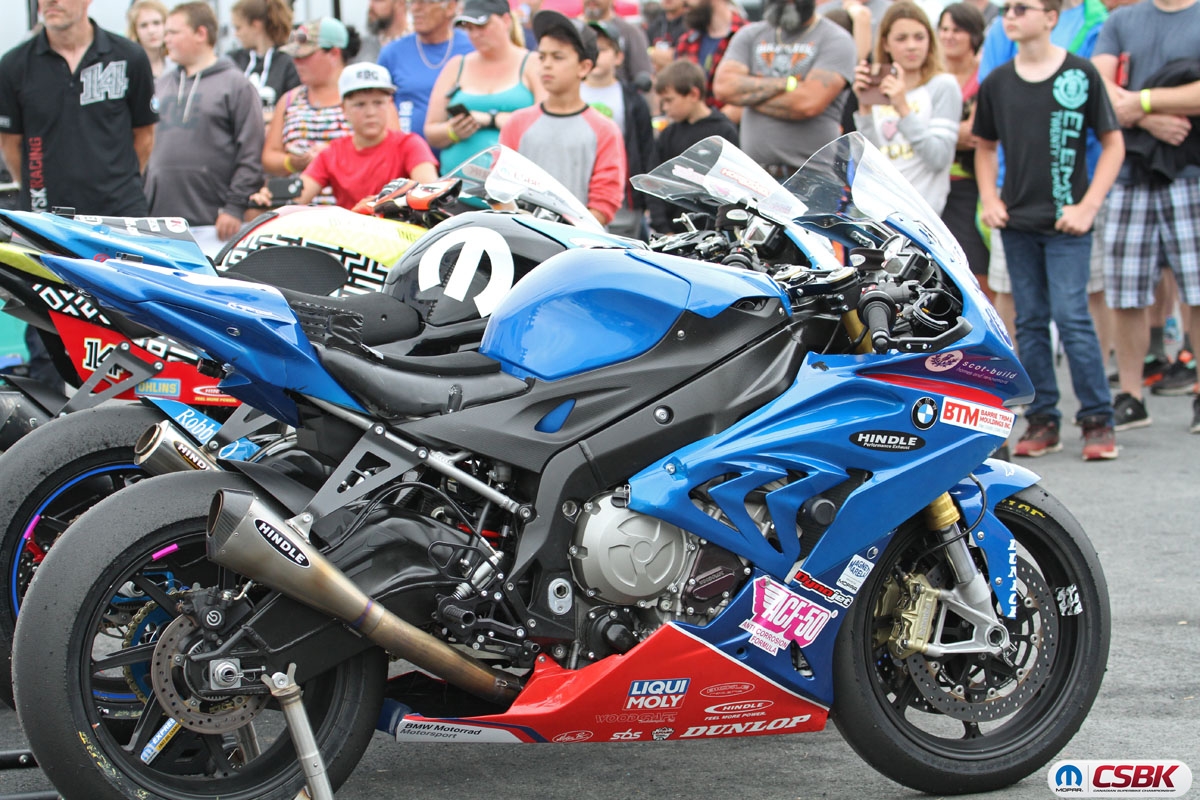 Young's Scot-Build/Hindle/BMW S1000RR
In the Liqui Moly Pro Sportbike Race 1, Tomas Casas, on the Peterborough Cycle/Hindle/Yamaha YZF-R6 just wasn't able to take the top spot competing against local Jacob Shaw-O'Leary (Honda CBR600RR). The battle was tight for 1st place, but O'Leary pulled ahead and crossed the finish line in the top position. Casas came in a close 2nd, followed by Jean-Marc Bilger, on the Hindle-powered Kawasaki ZX-6R in 3rd. Sebastien Tremblay, on the DB Moto/Hindle/Kawasaki ZX-6R came in 4th followed by Mitch Card in 5th (YZF-R6).
In Race 2, Tremblay took home his first Pro National win in an exciting race. Casas took the second spot on the podium for back-to-back second place finishes, followed by Shaw-O'Leary in the 3rd spot. Card grabbed the 4th spot, followed by Rookie-turned-Pro Samuel Desmarais, on the Hindle-powered Kawasaki ZX-6R in 5th place.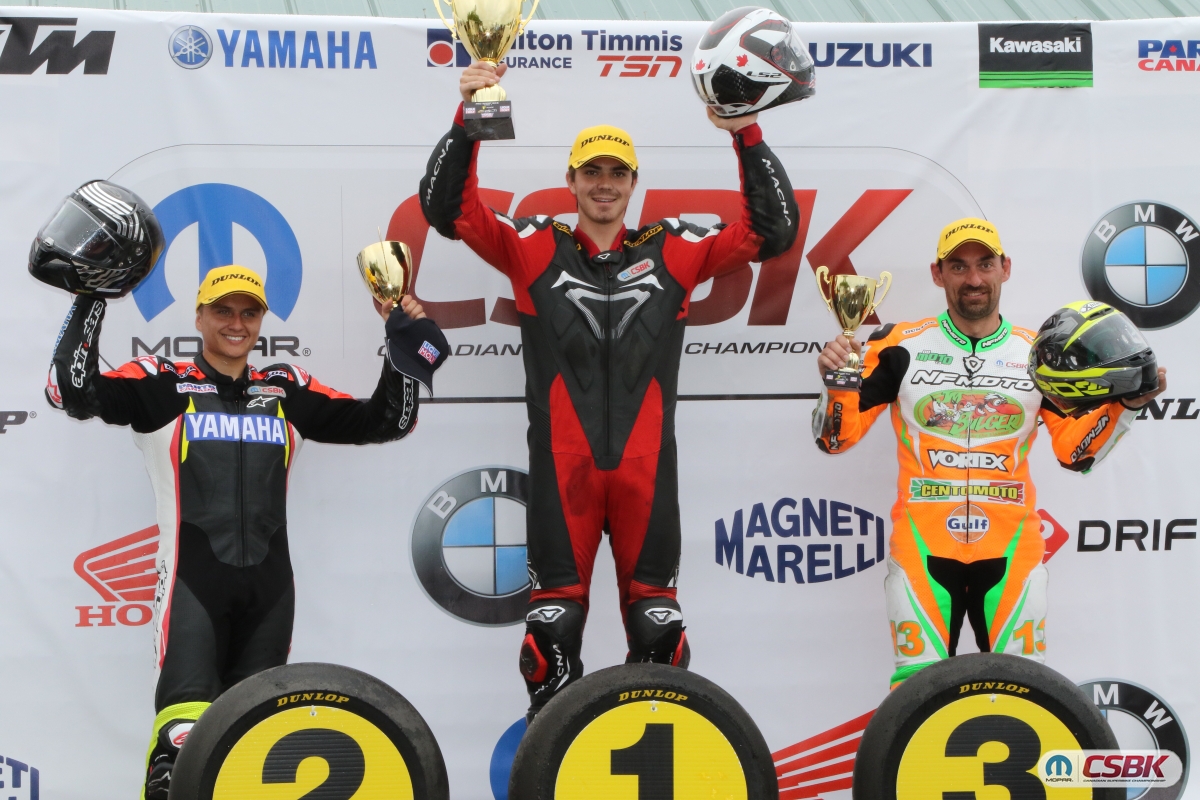 Liqui Moly Pro Sportbike Race 1 Podium: Shaw-O'Leary in 1st, followed by Casas in 2nd and Bilger in 3rd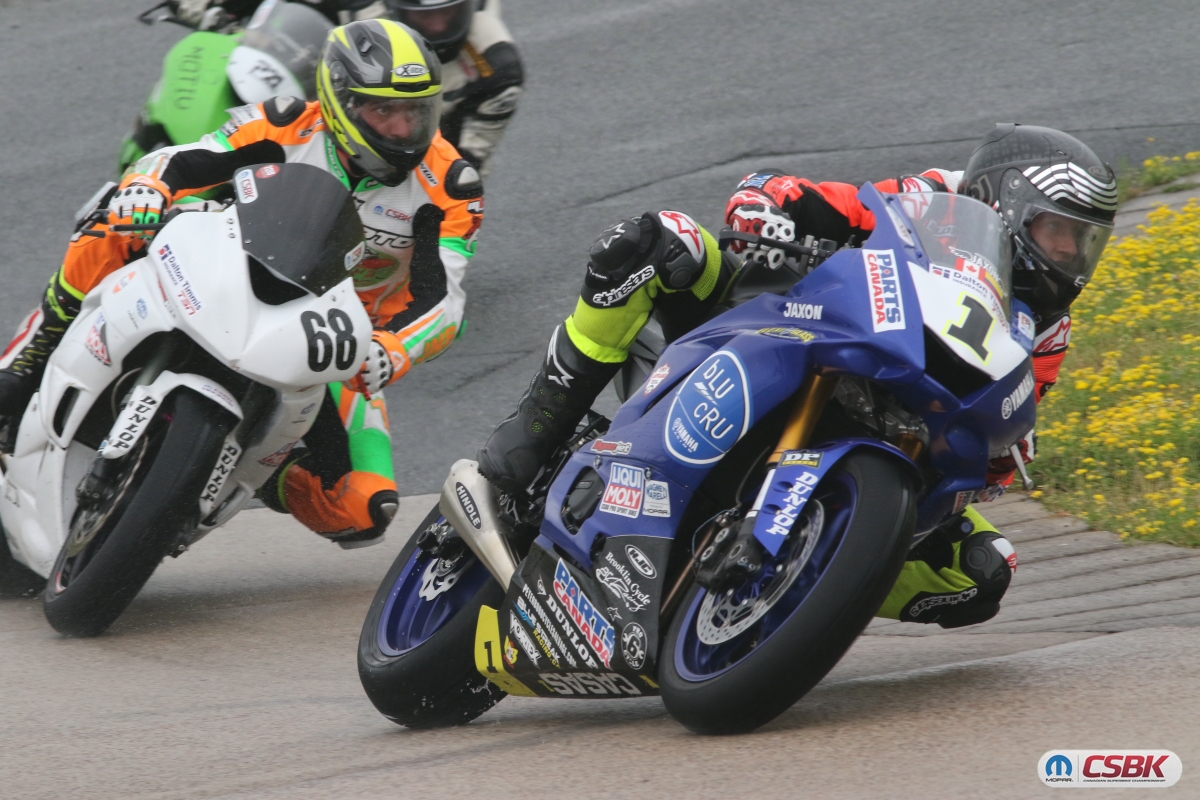 Casas (#1) and Bilger (#68) in the Liqui Moly Pro Sportbike Race
"It's really awesome to finally win a National race. I've won a few regional races, but these guys here are just so fast," Tremblay said. "I tried to manage the tires, but everyone rode really hard, so they really made me work for it."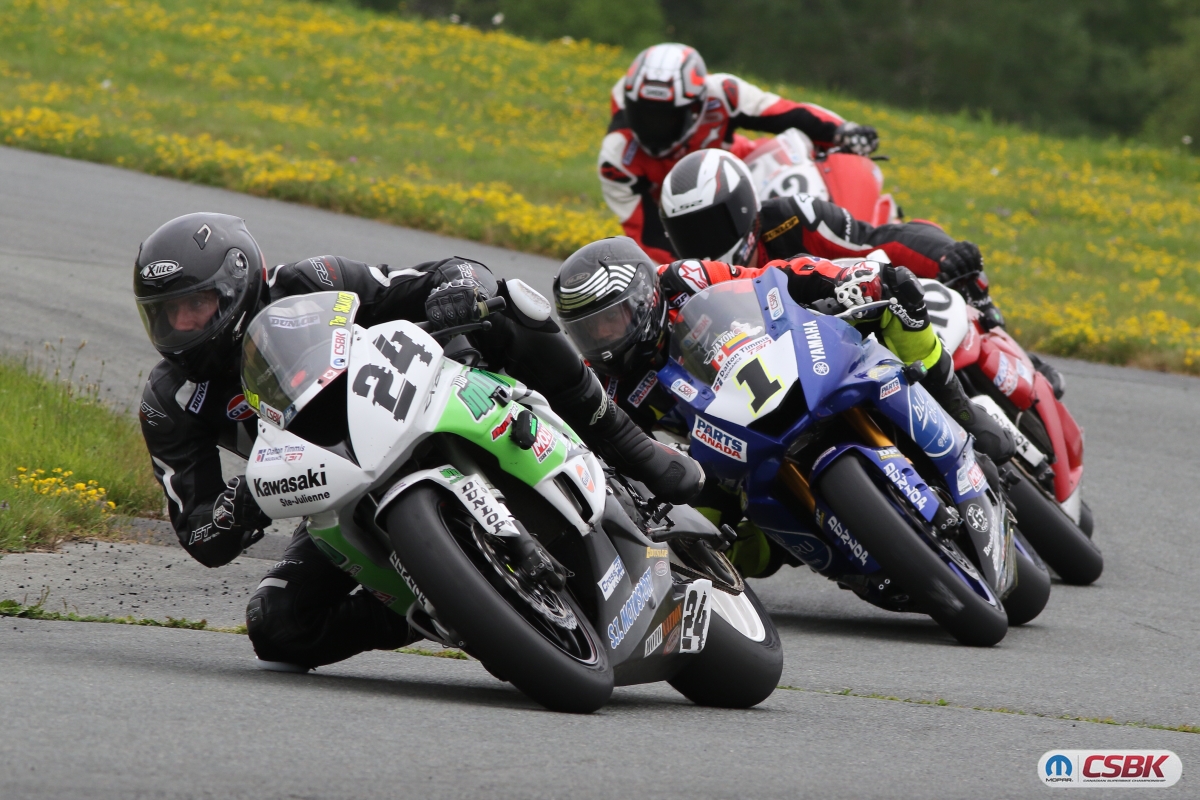 Tremblay (#24) took home his first-ever National win the Race 2 of the Liqui Moly Sportbike Class
"Sebastien was riding really well, but I was gaining on him in a few spots. It was just too late to make a move, and he really didn't leave the door open at all," said Casas. "It was a well-deserved win for him, but I'm happy we brought home second-place for the championship."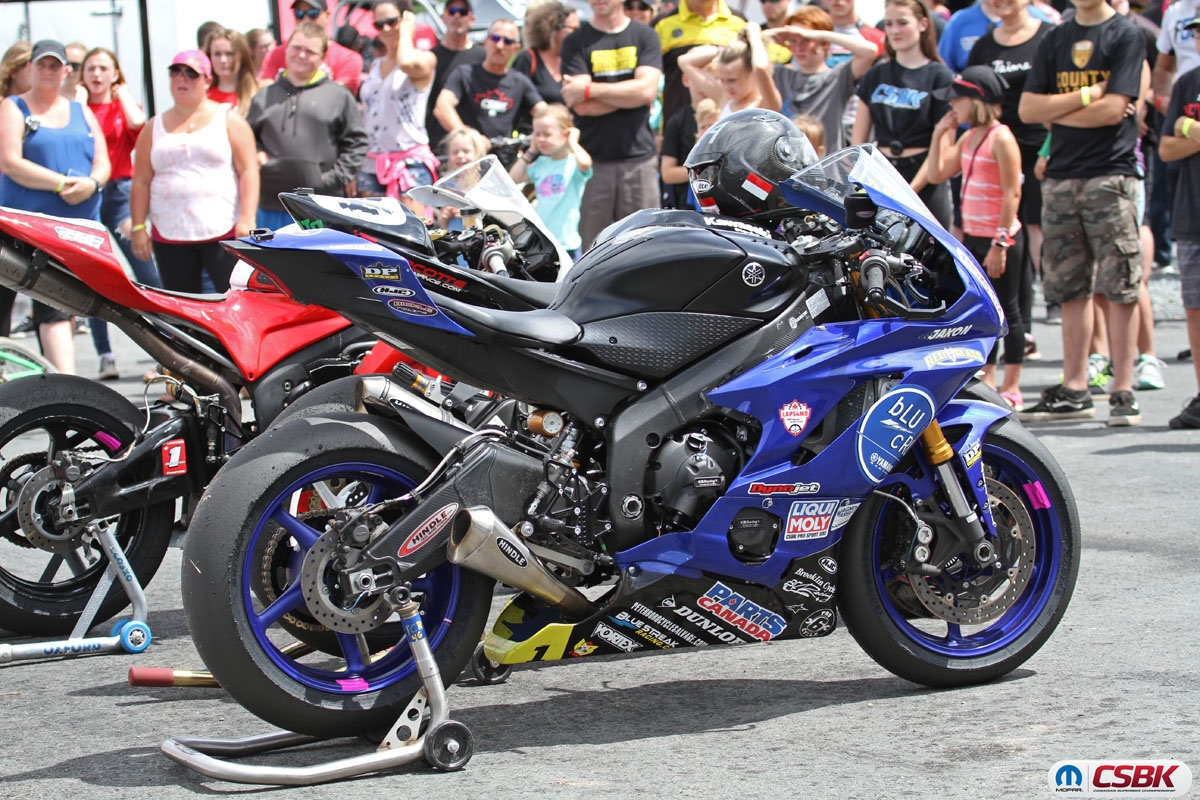 The #1 Yamaha YZF-R6 of Tomas Casas
In the Amateur Lightweight class double-header, the local riders gave Jake Leclair, on the Oshawa Cycle/Hindle/Yamaha YZF-R3, a run for his money. Leclair, who was on his way to claiming the Amateur Lightweight Sportbike championship, finished in 1st in Race 1 and 3rd in Race 2.
In Race 1, the battle was a close one - as Avery Hart and Scott Alexander, both on Kawasaki Ninja 250s and local to Atlantic Motorsport Park, stayed close to Leclair the entire race. Leclair claimed the top spot, followed by Hart in 2nd and Alexander in 3rd. Alex Berthiaume (YZF-R3) came in 4th, followed by Ryan White, on the Hindle-powered Kawasaki Ninja 300 in 5th place.
In Race 2, Leclair just couldn't bring the top spot home, as the local riders were able to finish ahead. Leclair rode a smart race planning ahead with the overall championship points on his mind, holding off on having a risky battle with the local riders. Hart finished in 1st, followed by Alexander in 2nd and Leclair in 3rd. Berthiaume finished in 4th place followed by White in 5th.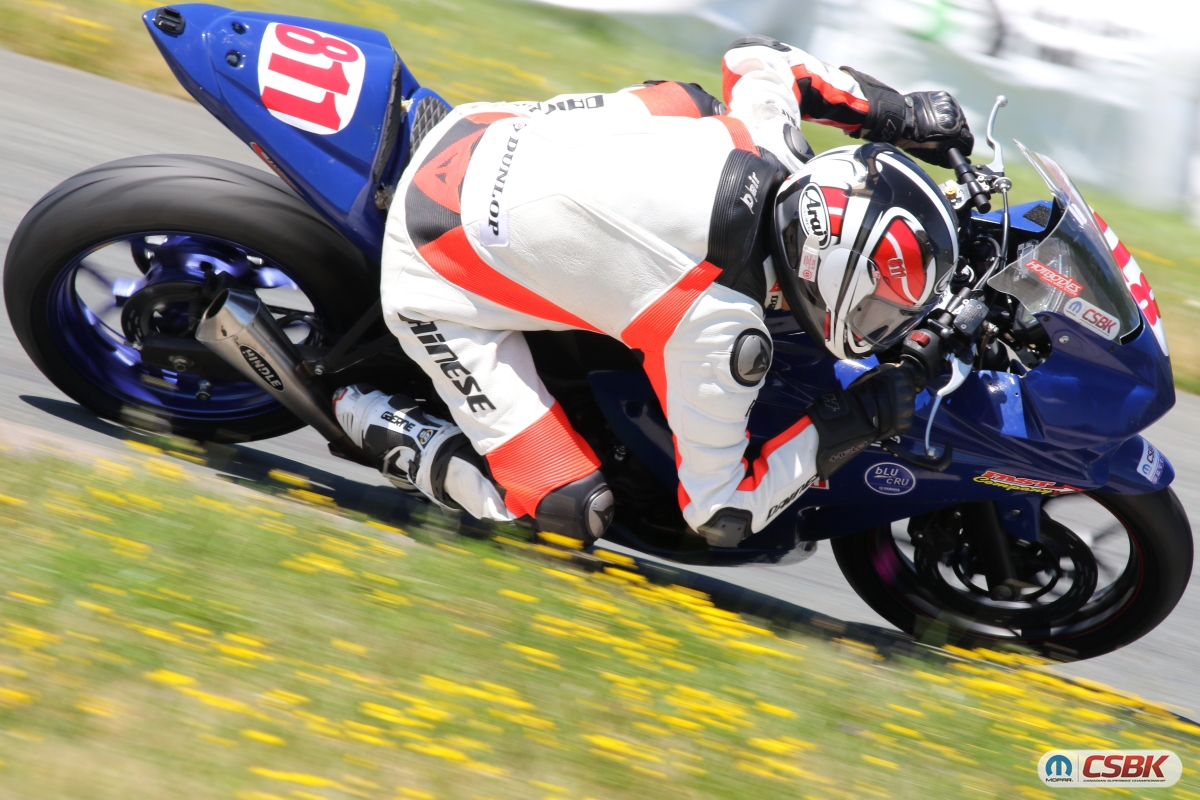 Jake Leclair, on the Oshawa Cycle/Hindle/Yamaha YZF-R3 brought home a 1st and a 3rd in the Lightweight
The last and final round is taking place August 10-12 at the famous Canadian Tire Motorsport Park in Bowmanville, Ontario. This weekend will be another double-header round, with racing taking place on both Saturday and Sunday. A fan-favorite track, CTMP draws a huge crowd of spectators eager to watch Canada's top motorcycle riders compete.
For more information, including rider bios and schedules, check out the Canadian Superbike Championship website. See you at the races!
Do you have a Yamaha YZF-R3 like Amateur Lightweight rider Jake Leclair? If you're looking to get amazing sound, great performance increases and noticeable weight savings (in comparison to stock), pick up our super lightweight performance producing Yamaha YZF-R3 Evo Megaphone or Evo Muffler full system or slip-on. Available for model years 2015-2018, these Hindle Exhaust products are proven to keep you at the top of your game.
Our systems are designed in-house in our facilities in Port Perry, Ontario and are extensively tested by amateur and pro racers worldwide. The exact same systems that our Hindle racers use are what our customers can purchase for their own bikes. Put your trust in Hindle Exhaust to get you to the top of the podium!
Shop our easy-t0-navigate website here or contact Woodcraft Technologies in the USA to order.