Hindle/Origin8or Cycles/Honda Canada Custom Rebel 500 Project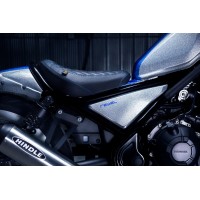 We have been patiently waiting for the reveal of this amazing custom Honda Rebel done by Rob Chappell of Origin8or Cycles. Our very own designer Scott Cartier added the custom Hindle Exhaust (pssst...we heard that this might be in production soon and available to order for all of our Honda Rebel 500 customers). This special bike will be on display at the Motorcycle Shows across Canada and featured on the hit TV show Motorcycle Experience.
On another note, the location for this shoot was just perfect - in our own Hindle Exhaust factory.
Check out the feature on Pipeburn: http://www.pipeburn.com/home/2018/01/04/fight-like-diamond-origin8ors-brilliant-honda-rebel-bobber.html