Young Wraps Up CSBK Season 3rd in Championship and as Pro Rookie of the Year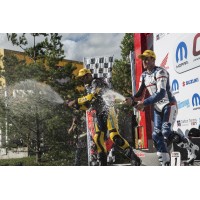 BOWMANVILLE, Ont. - August 23, 2016 – Collingwood, Ont.'s Ben Young wrapped up his Pro MOPAR Canadian Superbike Championship (CSBK) rookie season this past weekend at Canadian Tire Motorsport Park securing third in the Championship standings and was honoured with the Brooklin Cycle Racing Pro Rookie of the Year Award.

Young and his team's resilience were put to the test this past weekend. Young had to bounce back from troubles with his bike during testing on Thursday to claim his fourth straight front row qualifying spot aboard the #86 Tim Hortons / Scot-Build Developments / BMW Motorrad BMW S1000RR in Friday's Dalton Timmis Insurance SuperPole qualifying session. Young took advantage of the new Dunlop Qualifying rear tire offered for the final CSBK weekend, helping him record a best lap time of 1:20.906 which was 0.128 seconds off pole position and just 0.04 seconds off Brett McCormick's five-year-old lap record of 1:20.866. This record was eventually broken by fellow BMW Motorrad S1000RR pilot and 2016 MOPAR CSBK Champion Jordan Szoke.

Starting race 1 from the inside of an all BMW Motorrad front row, Young was acutely aware that U.S.- based guest racer Claudio Corti from Italy was not going to make it easy for the CSBK regulars this weekend.

Young would get a solid launch off the line and began to battle within the lead group. On lap 4 Young would take over the lead and held the pace upfront for 5 laps. Part of the highly entertaining lead battle for the first eight laps of the race, Young would encounter debris on the track from an earlier incident in corner 2 which resulted in a nasty highside crash. The 23 year old pilot would record his first DNF of the season.

The Tim Hortons / Scot-Build Developments team lead by Chief Mechanic, Scott Cartier and Suspension Specialist, Willie Vass wasted little time in rebuilding a bike to get the Superbike rookie back on the starting grid for Sunday's feature Pro MOPAR CSBK race.

On Saturday night the young Scottish-Canadian was honoured to be asked to join fellow CSBK BMW Motorrad S1000RR pilots as well as professional motorcycle streetbike freestyle rider Mattie Griffin at the BMW Motorrad Days village for an autograph signing session for the fans.

After a morning shakedown during the Sunday morning practice Young and the team felt confident with all their hard work and that his #86 Tim Hortons / Scot-Build Developments / BMW Motorrad S1000RR was ready to do battle in the final feature race of the 2016 MOPAR Canadian Superbike Championship season.

Walking to the grid for the final showdown race it was apparent that Young was still sore, yet once he began his pre-race preparations it was equally apparent that he had unfinished business to attend to.

Young got a solid start off of the line however the two riders battling for first began to break away from the pack. A red flag would force a complete restart reducing the 20 lap feature to 16 laps. Young would get a better start and was in third at the end of the first lap. The leaders battling for first would put some distance between Young and the two other riders vying for the last spot on the podium. Showing some real grit Young worked his way back into the fight for the lead, however the second red flag of the race would require another restart but this time it would be an 8 lap shootout with the grid determined by the running order before the red flag.

On the second restart Young briefly fell back to fifth and once again engaged in an intense three way battle for third place. On the penultimate lap Young would retake 3rdand held it right to the finish line securing his fifth podium finish of the season and locking up third place overall in the MOPAR CSBK Championship point standings.

In addition to securing the final spot on the podium Young would also be the recipient of the Brooklin Cycle Racing Pro Rookie of the Year Award.

"This season has been incredible and after all the hard work the guys put in getting the BMW rebuilt today's finish feels almost like a win for us!" said Young "The BMW Motorrad S1000RR is an incredible motorcycle and BMW Motorrad Canada have been so supportive all season. I have to thank Scott, Willie my family, team and series Sponsors, the fans, CSBK staff and track personnel for making this a memorable season."

This weekend's pair of MOPAR CSBK races will be shown on TSN presented by Dalton Timmis Insurance. Saturday's race is tentatively scheduled to premier on Tuesday, August 30 at 2:00 p.m. Eastern on TSN2. Sunday's season finale is due for a Wednesday, August 31 premier, also at 2:00 p.m. on TSN2.

This past weekend Young was also filmed for an upcoming TV series called Go Nitro, a groundbreaking new sports television series that takes the audience behind the scenes for an in depth look at professional sports. Air date and times will be announced later this summer.

Young's partners for his 2016 CSBK season include; Tim Hortons (Sudbury), Scot-build Developments, BMW Motorrad Canada, AXO Racing, Arai Helmets, Hindle Exhaust, KarmaComa Studio, Woodcraft, Human 2.0, Core Power high protein milkshakes, K-Tech Suspension, Epic Racewear, Vortex Racing and K&N Filters.

He is also a proud "Laps for Muscular Dystrophy" (Laps4MD) rider who's pledged to donate $1 for every lap he leads this season. These donations go to Muscular Dystrophy Canada to help make a difference in the lives of over 50,000 Canadians affected by a neuromuscular disorder.

To keep up-to-date on Ben Young throughout the year visit;www.BenYoungRacing.com, www.facebook.com/BenYoungRacing and on Twitter and Instagram: @benyoung_86.