2021 CSBK Round 1 Hindle Riders Report - Part 2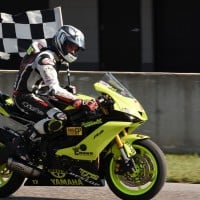 The Motul Amateur Superbike class at Round 1 of the 2021 CSBK/Pro 6 GP Series had a full grid start
Hindle Riders - Round One Race Report - Part 2
July 19, 2021 - Calabogie Motorsports Park
- In more racing action from the opening round of the 2021
Canadian Superbike/Pro 6 GP Series
, the Amateur Superbike and Sport Bike classes made for some awesome competition from some of Canada's fastest up-and-coming racers.
In the Motul Amateur Superbike class, Anthony Bergeron, on the Hindle-powered BMW S1000RR took home the top spot, followed by Guillaume Lavallee, on the Hindle-powered Yamaha YZF-R1, in 2nd place and Julien Lafortune on the Kawasaki ZX-10R in 3rd place.
Bergeron (#41) with Simpson (#91) close behind in the Motul Amateur Superbike Race
In the Brooklin Cycle Racing Amateur Sport Bike class, newcomer Brad Macrae took home his first National win aboard a Hindle-powered Yamaha YZF-R6. Matthew Simpson, who recently switched to Amateur Sport Bike and Amateur Superbike after a successful run in the Lightweight class, took home 2nd place, also on a Hindle-powered Yamaha YZF-R6. Nathan Playford, on a Honda CBR600RR, rounded off the podium in the final spot.
Brad Macrae dominated the Amateur Sport Bike class aboard his Hindle-powered Yamaha YZF-R6
For more news, including rider bios and full race results, visit
www.csbk.ca
.
*Photos and information courtesy of CSBK. Select photos from Tim McGill & Damian Pereira.